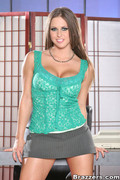 Rachel Roxxx girlpack focusing on her as an NTR girlfriend with lots hidden cams and selfie clues.
Features:
2 Home scenes
1 Gym scene
12 Hiddencams scenes
25 selfies to gives you clues as to what's going on in the hidden cam scenes. Read the text that comes with each.
Since there are so many selfies, try to drive around a lot at each level of relationship between 5 and 10 after getting her number and a smartphone.
Remember to regularly check the webcams from your study or your smartphone at your buddy's house.
Put the RachelRoxxx.girlpack in the girlpack folder and put rachelroxxx.girlphrase and rachelroxxx.selfies in the girlscenes folder.
The webcam feature in 3.41 is a little buggy. If the same scene is showing over and over then save, quit, load to get it back on track.
The hidden cam scenes are intentionally longer. Your scenes with Rachel are in standard format with 8-12 ~1 minute long clips.
This is my first girlpack so I welcome any feedback. If people like it maybe I'll remove the freemake video logos in the future.
https://mega.nz/#!AiQBgQhC!jQ5iLKoUyVc2 ... GyYOgxqcXE